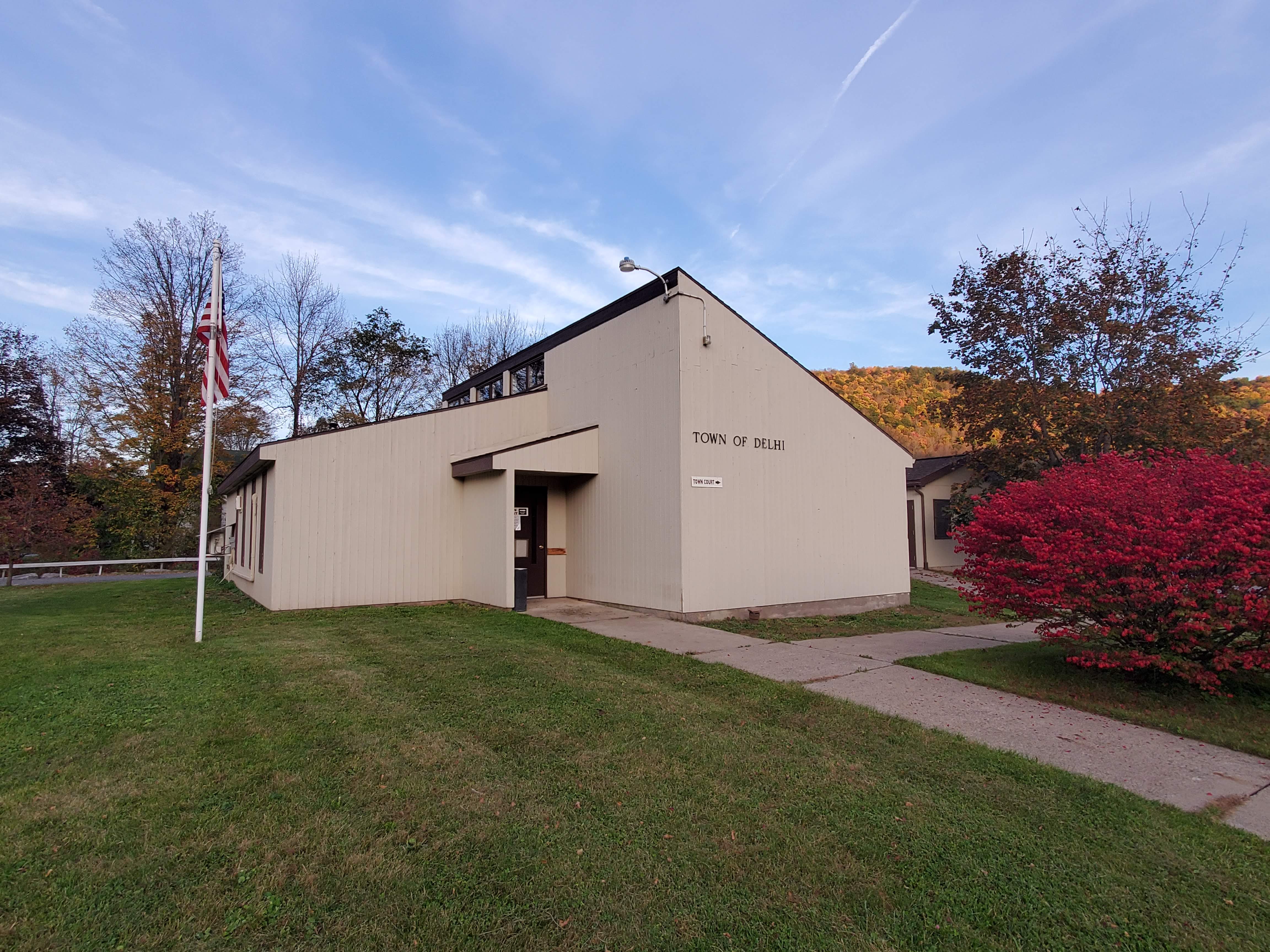 This website contains links to town services, a directory of town officials, departments, committees, documents, and a calendar of town government meetings and events. We're here to help!
Town Hall is located at 5 Elm St, Delhi, NY
Town Hall has installed an intercom system for entry.   The Town Clerk's office is open Monday through Friday from 8:00 am -3:00 pm. We allow only one person or couple in the office at a time for privacy.  Due to lack of available waiting space if someone is in the hallway, we will require you to wait outside until they leave as this allows them the privacy to conduct their business.  Thank you.
There is a drop box available for your convenience located by the front door entrance to Town Hall. 
Town business can be completed by phone (607-746-8696), regular mail or fill out this contact form. 
Town Clerk/Tax Collector/Registrar of Vital Statistics - Press 1 
Town Justice Court - Press 2
Town Highway Department - Press 3
Assessor's Office - Press 4
Code Enforcement Officer - Press 5
Town Supervisor - Press 6
Town Bookkeeper - Press 7
Looking for help with town services? Use the links below to get started. Questions? Call (607)746-TOWN (8696).
I want to...
Licenses, Records & Taxes
News
Thanksgiving
The Delhi Town Clerk's office and Town Justice Court will be closed for Thanksgiving Thursday, November 23rd and Friday, November 24th. 
Thanksgiving is a time to give thanks and we would like to thank everyone for their kindness throughout the year and wish you all a Happy Thanksgiving!
Public Hearing Adoption of a Local Law to Override the Tax Levy Limit
            NOTICE IS HEREBY GIVEN that a Public Hearing will be held before the Town Board for the Town of Delhi at the Delhi Town Hall, 5 Elm Street, Delhi on the 13th day of November 2023, at 7:00 p.m., regarding the adoption of a Local Law to Override the Tax Levy Limit established in General Municipal Law §3-c.  This law is being proposed to comply with subdivision 5 of the General Municipal Law §3-c which expressly authorizes the Town Board to… more
Upcoming Events
Delhi Pool
The Delhi Town Pool, located at the Delhi American Legion, is closed for the season.
Contact recdirector@townofdelhi.org with any questions.
See the JOBS page if you'd like to join the pool team!